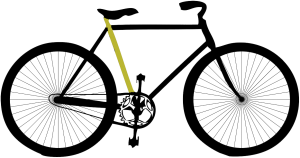 Goes from saddle to bottom bracket.
This section changes from model to model at different angles that vary the behavior of the bike and the weight distribution.
In high-end bicycles it is built to 3 thicknesses, so it takes into account the efforts of the structure. Modifying the round section of this element has no effect on the strength of the bicycle, so modifying the shapes has a more aesthetic value.
Sources:
http://www.cyclinside.it/web/category/componenti/
http://www.albanesi.it/corsa/ciclismo.htm